Prime Minister Binyamin Netanyahu and his right-wing allies have taken a clear lead over former army chief Benny Gantz as the 9 April elections draw near. Despite a series of corruption allegations against the prime minister, Gantz and his Blue & White electoral list face an uphill battle in cobbling together a coalition to thwart Netanyahu's bid for a fourth consecutive term. Eurasia Group expert
Henry Rome
discusses the state of the campaign, the role of President Donald Trump, and how the race could still swing toward Gantz.
Why have the corruption allegations not derailed Netanyahu's campaign?
When the attorney general presented accusations of bribery, fraud, and breach of trust against Netanyahu on 28 February, the outlook for the prime minister looked grim. For the first time, a Gantz-led coalition pulled ahead of Netanyahu's allies in the polls.
The accusations were vivid and striking
, but after a lengthy investigation by prosecutors, they had been largely priced in to the views of many Israelis. Netanyahu's supporters have stood by his side, and his right-religious coalition has rebounded in the polls (please see below graphic). Some of his die-hard backers, who make up roughly one-fifth of the population, consider the investigations to be a politically motivated "witch hunt," as Netanyahu refers to them. Many supporters also believe that Netanyahu's security and economic record outweighs questions of his probity. The strength of his base was tested several weeks later, when Israeli media reported on an additional allegation related to Israel's purchase of German submarines. But the news did not dent support for the premier.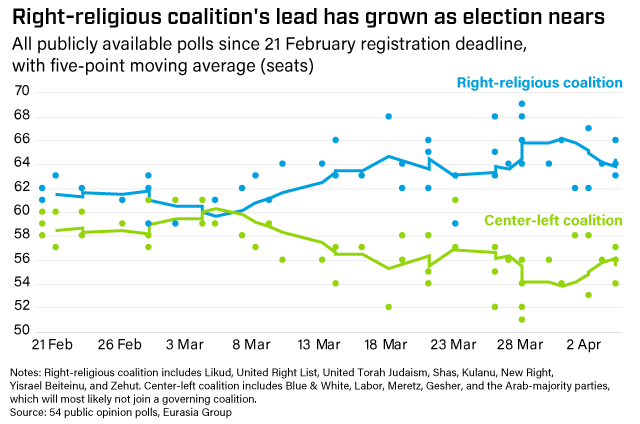 Has Trump been able to help Netanyahu or is the role of outsiders in Israeli elections overstated?
The Trump administration has not been shy about lending a hand to Netanyahu's campaign. Secretary of State Mike Pompeo made a
historic visit to Jerusalem
in late March; Trump
welcomed Netanyahu at the White House
the next week, while snubbing Gantz, who was also in Washington; and Trump formally
recognized Israeli sovereignty
over the disputed Golan Heights. For the Netanyahu campaign, the individual gestures were not as important as the message they sent: that Netanyahu is in "a different league" than his opponent. For good measure, Netanyahu this week jetted off to Moscow to personally thank President Vladimir Putin for Russia's assistance in recovering the remains of an Israeli solider killed in Lebanon in 1982. With these visits, Netanyahu is arguing that only he can be welcomed warmly by Trump one week and Putin the next. For many Israeli voters, the pitch is working.
What happens next? Is the race basically over?
While Netanyahu has momentum, there are two important caveats. First, a relatively large number of parties are hovering on the verge of exclusion from parliament. In the Israeli system, parties that receive less than 3.25% of the vote are excluded and the votes cast for them are wasted. Several parties that would form the core of a Netanyahu-led coalition are teetering on the edge, especially Kulanu, Shas, Yisrael Beiteinu, and Hayamin Hehadash. Israeli pollsters have
historically had a very hard time
determining which small parties make the cutoff and which do not. If several are eliminated, the electoral math changes significantly. Second, the election itself is only the beginning of the process to form the next government. Since neither Netanyahu nor Gantz will earn a plurality of seats in the 120-member parliament, each must cobble together a coalition. Gantz's natural allies probably cannot form a governing coalition on their own. But if they get close, the former general may be able to peel away some of Netanyahu's allies. The direction of this negotiation process will depend on which parties actually cross the threshold, and whether these parties are more or less inclined to defect from a right-wing grouping.
If Gantz pulls off an upset, what would be the geopolitical impact?
A Gantz foreign policy
would likely look very similar
to Netanyahu's foreign policy. This should be no surprise: Gantz served as army chief for four years under Netanyahu and worked to shape Israeli strategy on top security and diplomatic issues, such as Iran. More importantly, any successor to Netanyahu—even one who did not work closely with him—would likely follow the prime minister's path. There is broad, even unanimous, agreement among elites across the political spectrum about the importance of the US relationship, the threat posed by Iran, and the benefit of expanding ties with Arab states. The Palestinian issue remains contentious, and Gantz would probably be marginally more open to adjusting Israeli strategy. But he has assiduously avoided endorsing a Palestinian state. He has also unequivocally insisted that Jerusalem will remain united and that Israel will retain security control west of the Jordan River. Combined with deep divisions among Palestinians, the likelihood of progress on this issue would be low in a Gantz premiership.