Amid soaring levels of voter discontent in Mexico, leftist leader Andres Manuel Lopez Obrador is gaining ground ahead of July's presidential election.
Two new polls this week of April voter intentions highlighted his momentum. A survey by
Reforma newspaper
showed the silver-haired politician 22 percentage points ahead of his nearest rival, Ricardo Anaya of the For Mexico in Front coalition. Lopez Obrador had the support of 48% of respondents, up from 42% in February, while Anaya's polling fell to 26% from 32%. The ruling party's Jose Antonio Meade stayed constant with the backing of 18%.
A survey by
Consulta Mitofsky
showed that 32% of respondents said they would vote for Lopez Obrador, compared to 21% for Anaya and 17% for Anaya.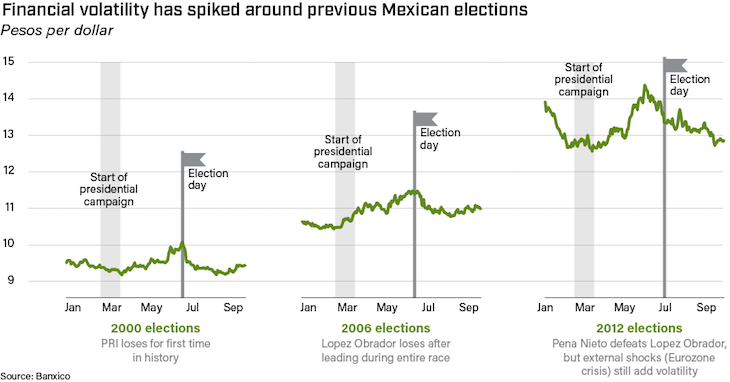 For Lopez Obrador, a popular former mayor of Mexico City, it is his third run at the presidency after failed bids in 2006 and 2012. His polling this year is its strongest since 2006, when he led during much of the campaign but then lost the vote by a razor-thin margin.
The 64-year-old has positioned himself as an outsider crusading against a corrupt political class at a time when voters are unhappy with the government and the ruling Institutional Revolutionary Party. Their discontent is compounded by spiraling violence and tepid economic growth that many perceive has done little to help the millions living in poverty.
Presidential approval ratings provide a proxy for general Mexican satisfaction levels, and they are in free fall this year. At around the time of the elections in 2006 and 2012, incumbents Vicente Fox and Felipe Calderon both had a rating of about 60%, compared to 30% for current President Enrique Pena Nieto at the start of this year, according to a series from
pollster Parametria
. Pena Nieto's approval rating was down to 21% in the latest Reforma poll.
But while Lopez Obrador's message of change is catching on in important segments of the electorate, it is raising concern among businesses and investors. The leftist leader has long railed against what he calls the "neo-liberal" policies of recent decades that have reduced the role of the state in the Mexican economy, opened sectors such as energy to foreign investment, and greatly deepened ties with the US and Canada through the NAFTA trade pact.
US-Mexico relations, already strained by President Donald Trump's frequent insults and demand for a NAFTA overhaul, would likely deteriorate further under the fiery Lopez Obrador—he recently told a cheering crowd at a campaign event that
"neither Mexico nor its people will be the piñata of any foreign government."
In addition to trade, this could have negative implications in areas such as immigration and anti-drug policies.
Earlier this year, Eurasia Group highlighted Mexico as one of its
Top Risks for 2018
, given the risks to orthodox economic policymaking there and to NAFTA.
In 2006 and 2012, the prospect of a Lopez Obrador victory sent shudders through Mexican financial markets as election day neared (please see above graphic). Lopez Obrador has made half-hearted attempts to send reassuring signals to investors. But he has also reiterated his criticisms of the country's energy sector opening and Mexico City's new airport, while promising to bring his own list of demands to the NAFTA renegotiation table. Expect more economic and political volatility in the months ahead.