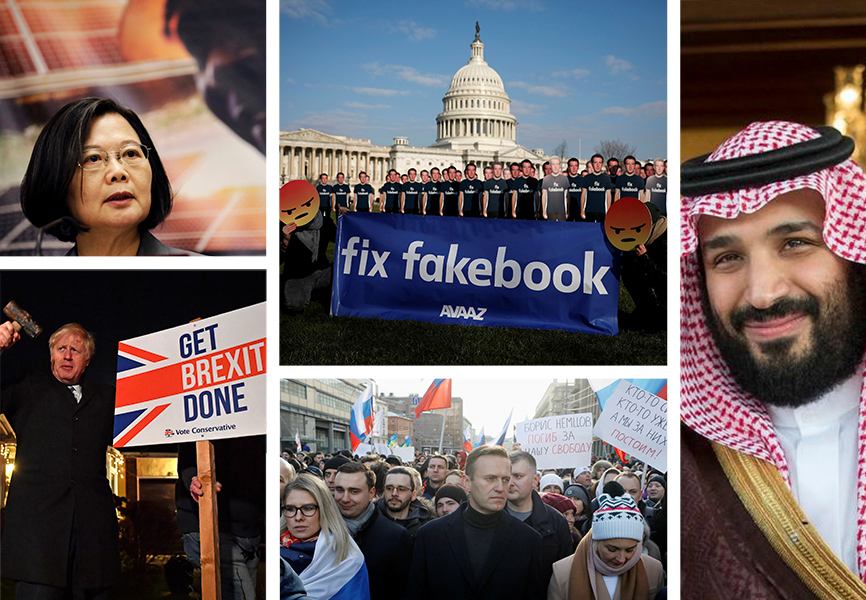 From palace purges in Saudi Arabia to a Big Tech crackdown, here are some of the top stories Eurasia Group's analysts are following this week.
Top story: David Cicilline (D-RI), the chairman of the House Judiciary Committee's Subcommittee on Antitrust, Commercial, and Administrative Law, said in an interview last week that his panel's investigation into leading technology companies had concluded that they abused their market power. Although Cicilline did not offer details of the report's recommendations, he said lawmakers were aiming to produce a "menu of options" that policymakers could consider for bringing more competition to digital marketplaces.
Why it matters: Cicilline's comments indicate that large technology platforms' business practices will be heavily criticized in the panel's upcoming report. Although the remarks about a potential reform of the technology sector have attracted some media attention, this is likely to be only one of several options under discussion, and not everything that ends up on the committee's menu of recommendations is likely to have bipartisan support. Cicilline first floated the idea of a Glass-Steagall-like reform more than a year ago. The remarks come as the tech industry faces intensifying headwinds, especially given ongoing investigations by the Department of Justice (DOJ) and Federal Trade Commission (FTC).

However, unlike the DOJ and FTC, the House committee does not have power to impose antitrust remedies. The willingness of Congress to push for particular competition reforms or more aggressive enforcement of existing rules will depend on the composition of both Congress and the next administration following November's election. In addition, Cicilline's comments suggest that Democratic lawmaker—and potentially also a Joe Biden administration—might be more inclined to support a broader view of competitive harms arising from concentration of market power in some segments of the tech sector.

For more geo-technology analysis, follow our team on Twitter: Paul Triolo, Kevin Allison, Xiaomeng Lu, and Clarise Brown.
Top story: Fallout of palace purges in Saudi Arabia
Why it matters: Last week, Crown Prince Mohammad bin Salman dismissed two more members of the royal family on corruption charges. The crown prince has taken a more assertive line against potential rivals in recent months, potentially in preparation for a formal transition of power in the kingdom.

For more news and analysis of the Middle East and North Africa, follow our Practice Head Ayham Kamel on Twitter.
Eurasia
Top story: The reaction to the poisoning of Alexei Navalny with a "Novichok" group chemical
Why it matters: The US and EU will point fingers at the Kremlin for the attack, which the German government said involved a chemical from the same family as the one used against former Russian spy Sergei Skripal in the UK (and attributed to Russian operatives). But beyond the rhetoric, it is far from clear that Western governments are going to severely punish the Russian government over it.

For more news and analysis of Eurasia, follow Zachary Witlin on Twitter.
South & Southeast Asia
Top story: Indian Foreign Minister S Jaishankar and Chinese Foreign Minister Wang Yi's expected meeting on the sidelines of the Shanghai Cooperation Organization (SCO) on 10 September.
Why it matters: This is the second high-level meeting in the past two weeks between Indian and Chinese representatives at the SCO as they seek to diffuse the ongoing standoff on the Line of Actual Control, which has gone on for more than three months. Tensions have increased rapidly over the past week, as the Indian Army announced on 31 August that they had stopped an attempt by the People's Liberation Army to change the status quo, while India has also accused China of abducting five Indian citizens from the Indian state of Arunachal Pradesh.

For more news and analysis of South Asia, follow Akhil Bery on Twitter.
Top story: Administration shifts attention to public service reform
Why it matters: The Bolsonaro administration's submission of a proposal to reform public service careers, which change rules on tenure, salaries, and benefits for incoming employees, is an important step in its fiscal reform agenda. Brazil's bloated public service has placed much pressure on the federal government given mandatory wage hikes and promotions which cut discretionary budget space for investments and social program spending. The reform faces significant pushback from public service unions, but the administration's choice to propose a reform only for new entrants eases the lobbying against it and improves its odds of approval in the legislature.

For more news and analysis of Brazil, follow our team on Twitter: Christopher Garman, Silvio Cascione, and Filipe G. Carvalho.
Top story: UK-EU formal negotiations
Why it matters: It's a critical week and will provide some indication of whether a deal is likely by mid-November.

For more news and analysis of Europe, follow our team on Twitter: Mij Rahman, Naz Masraff, Emre Peker, and Federico Santi.
Energy, Climate & Resources
Top story: Uncertain development outlook for Eastern Mediterranean natural gas
Why it matters: The Eastern Mediterranean could be one of the world's biggest sources of natural gas. Yet these riches have catalyzed regional power struggles, curbing the appetite for the multi-billion-dollar investments needed to develop large gas reserves. Though the Levant Basin alone could provide seven years' worth of gas supply to the EU, a weak demand outlook, and a well-supplied market will compound doubts about project viability. Additionally, Turkey's isolation and competing interests vis-à-vis Greece, Cyprus, Israel, and Egypt will further fuel Ankara's assertive policies and raise the risk of clashes, though a sustained conflict is unlikely.

For more energy and climate analysis, follow our team on Twitter: Mikaela McQuade, Coco Zhang, and Gerald Butts.
Northeast Asia
Top story: US-Taiwan relationship ruffles feathers in Beijing
Why it matters: Washington and Taipei's announcement of a new bilateral economic dialogue—which will cover technology, healthcare, and energy—is the latest effort by the Trump administration to promote the US-Taiwan relationship. While the US is unlikely to restart negotiations on a bilateral trade pact with Taiwan before the presidential election in November, it could announce talks if President Trump wins a second term. Though China did not respond positively to the fresh economic dialogue, it also did not immediately retaliate. If the US were to announce a formal position on Taiwan's sovereignty in favor of Taipei, however, it would likely cross a red line, triggering a forceful military response from China.

For more news and analysis of China, follow our team on Twitter: Michael Hirson, Kelsey Broderick, and Allison Sherlock.
See each edition of World in a Week.