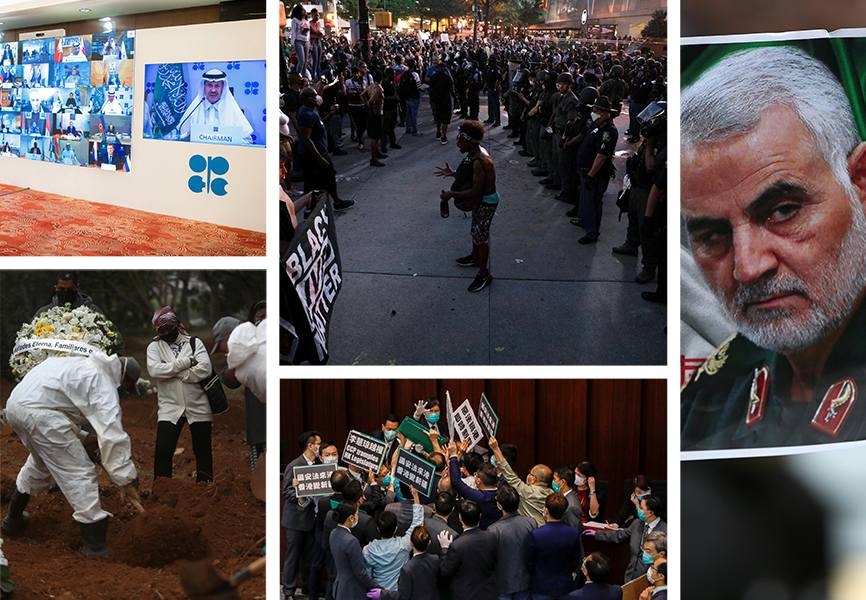 From protests in the US to protests in Brazil, here are some of the top stories Eurasia Group's analysts are following this week.
Middle East & North Africa
Top story: US-Iraq strategic dialogue set to start on 10 June, during which both parties will review the contours of their economic and security cooperation
Why it matters: The US-Iraqi relationship was shaken in the wake of the assassination of Iranian General Qassem Suleimani on Iraqi soil in January. The US will try to use this dialogue to ease these tensions and build consensus with the new Iraqi government around US troop presence, while trying to pull Iraq away from Iran. The Iraqis will also focus on how the US could help them overcome the economic crisis currently facing the country. The new government appears willing to improve its relationship with Washington.
North America
Why it matters: Protests following a Minneapolis police officer's murder of George Floyd, a black man, have spread across the United States and into the local, state, and national political arena. Congress will begin considering various policing reform measures, including through the annual defense authorization bill. Specifically, they will explore shutting down a program that allows the military to transfer equipment to police forces.
Healthcare
Top story: Increasing backlash to social distancing in the US?
Why it matters: Will the current protests lead to additional Covid-19 transmission in the US? The risk is real, experts say. The risk is also real that communities that have already demonstrated reluctance to social distancing will use these protests to double down on their anti-lockdown position. For all states in the US—particularly those that were seeing rises in cases before the protests—this will create additional outbreak risks, not to mention an increasingly polarized transmission blame game.
Latin America
Top story: Ecuador begins talks with bondholders; likely impeachment of Finance Minister Richard Martinez
Why it matters: With talks between the government and creditors under way, the economically beleaguered country hopes to restructure its debt and avoid a default. Finance Minister Richard Martinez could be a casualty of Ecuador's economic woes, with multiple impeachment charges pending against him.
Northeast Asia
Top story: China and the UK's souring relationship
Why it matters: As coronavirus spread in the UK, Foreign Minister Dominic Raab stated that business as usual with Beijing could not continue, and the country began to explore foreign investment restrictions and reassess its decision to allow use of Huawei equipment in its 5G infrastructure. China's national security law for Hong Kong could irreparably damage the bilateral relationship and halt plans to expand the Shanghai-London stock connect.
Europe
Top story: Eurogroup meeting of finance ministers on 11 June
Why it matters: Though not formally charged with discussing the EU's proposed Recovery Fund, this will undoubtedly feature in the discussion ahead of a critical EU Council later this month. We will be watching for any early signs of progress on an agreement on the Recovery Fund and the specifics of the instrument.
Energy, Climate & Resources
Top story: OPEC+'s production cuts
Why it matters: The group of oil producers led by OPEC and Russia, known as OPEC+, agreed over the weekend to extend the current production reduction commitment by one month to the end of July for all participating countries except Mexico. The new target is to cut 9.6 million barrels per day (bpd) in July; the continuity of the agreement is contingent on non-compliant countries compensating their over-production in July, August, and September. Currently, there is a delicate balance between too much and too little oil supply worldwide, and OPEC+ is becoming more proactive in managing the market. Since April, global supply has been effectively cut by around 15 million bpd, 10 million bpd of which came from OPEC+. The group's compliance level over the next few months will largely affect global supply and is critical to prevent oil inventories around the world from topping out.
Brazil
Top story: Growing protests against Bolsonaro
Why it matters: Although the number of Covid-19 cases continues to grow in Brazil, demonstrations against President Jair Bolsonaro are gaining momentum. Bolsonaro still has about a third of the electorate by his side, but the rest of the population has shown greater discontent at the poor management of the pandemic and his threats to disrespect court orders. While protests may be relatively small during the outbreak, they are a leading indicator of a more polarized and unstable political environment post-Covid-19.
See each edition of World in a Week.