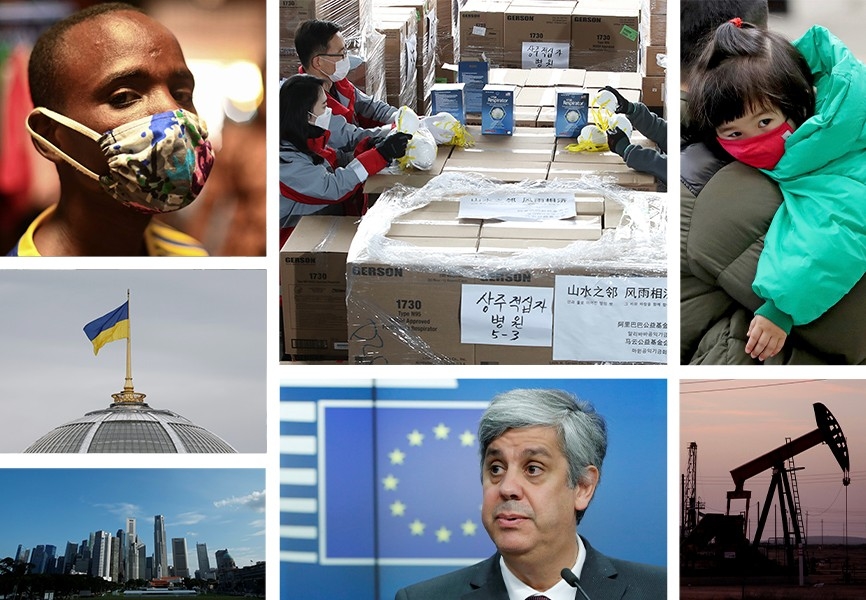 From a world continuing to grapple with the coronavirus pandemic to the Wisconsin primary and an OPEC+ emergency meeting, here are the top stories Eurasia Group's analysts are following this week.
Northeast Asia
Top story: State of emergency in Japan
Why it matters: While the state of emergency that Prime Minister Abe Shinzo will declare this week will not involve draconian restrictions on movement and commercial activities, it will still likely cause significant economic disruptions. There are also concerns about how effectively this rather cautious approach to ramping up social distancing and other outbreak mitigation measures will function.
Eurasia
Top story: Possible changes to Ukraine's 2020 budget
Why it matters: Ukraine's parliament will consider the changes to deal with the effects of the coronavirus outbreak. Along with final approval of a law that helps protect banking sector reform, passing the budget changes is an important step in securing IMF money needed to weather the emergency.
Africa
Top story: Measures taken by countries to significantly ramp up testing of Covid-19
Why it matters: The slow rollout of testing in sub-Saharan Africa almost certainly masks the true extent of the outbreak on the continent, and governments must work quickly to rectify this if they hope to contain its spread.
Healthcare
Top story: Singapore shuts down
Why it matters: Singapore, a country that contained its initial coronavirus outbreak, is shutting down for one month as its current efforts to maintain normal economic activity with expert disease management have not been entirely successful. We're looking at countries that successfully mitigated an outbreak and how they are faring with a return to normalcy; the ongoing trajectory of countries that successfully contained the first spread will be a signpost for recovery in Western markets and global growth overall.
Latin America
Top story: AMLO announces economic measures to deal with pandemic
Why it matters: Mexico's president will face pressure this week to do more, as his response has been timid so far, and the country's outlook is very challenging.
Middle East & North Africa and Energy, Climate & Resources
Top story: OPEC+ emergency meeting to address oil market mayhem
Why it matters: Called by Saudi Arabia, it is hoped that the meeting will determine the fate of a brutal price war that has compounded the global economic shocks of Covid-19. Multiple outcomes are possible, with Eurasia Group's basecase now being major cuts by OPEC+, led by Saudi Arabia and Russia, alongside a US cut and more from other producing countries. Depressed global demand and the risk of hitting global storage capacity may mean that oil prices remain low for some time, but an agreement that also includes non-OPEC producers such as the US would represent a watershed moment in global energy diplomacy and coordination.
United States
Top story: Wisconsin primary
Why it matters: Turnout and the mechanics of expanded absentee voting will give us an early look at the state of elections and democracy in the age of coronavirus.
Brazil
Top story: Discussions on a proposal to create a special budget regime to fight the Covid-19 crisis and to authorize asset purchases by the central bank.
Why it matters: The so-called "war-time budget" will help expedite spending to mitigate social and economic dislocations caused by the pandemic; the asset purchases authorization will provide the central bank with tools to stabilize markets if liquidity deteriorates—not a quantitative easing program, though. Both provisions are likely to be approved by congress this week.
Europe
Top story: Eurogroup meeting on 7 April
Why it matters: This will be critical in deciding EU-level response to coronavirus crisis.
Geo-Technology
Top story: Political opportunities for Chinese tech firms fighting Covid-19
Why it matters: Fighting a global pandemic can earn you serious political capital. For some Chinese tech firms, pitching in to help fight the coronavirus outbreak may be opening up new political opportunities—not just in China, but in some developing countries, too. Alibaba and its payments affiliate Ant Financial have been on the front lines of China's pandemic response, integrating their technologies with public health and economic stimulus efforts—and raising serious privacy concerns in the process. Both companies have earned serious kudos in Beijing, putting Ant in a prime position to participate in China's eventual launch of a new digital currency, while Alibaba's donations of medical equipment and telemedicine assistance are likely to open new doors for the e-commerce giant in parts of Africa and Asia linked to China's Belt and Road Initiative. There is a downside, however: While Alibaba and Ant are engaging in what amounts to public diplomacy on behalf of Beijing, Western countries are likely to increasingly view them as instruments of the Chinese Communist Party, potentially limiting both companies' growth opportunities in more advanced economies.
South and Southeast Asia
Top story: US and Japan's outreach to Southeast Asian countries during the coronavirus outbreak
Why it matters: The US and Japan hope that their assistance—medical equipment donations, aid, and emergency health assistance—will maintain or even enhance their influence in Southeast Asia, which has experienced deepening ties with China over the past few years, although China is thus far winning the public relations campaign and may see the biggest uplift in its ties with ASEAN following the coronavirus outbreak.