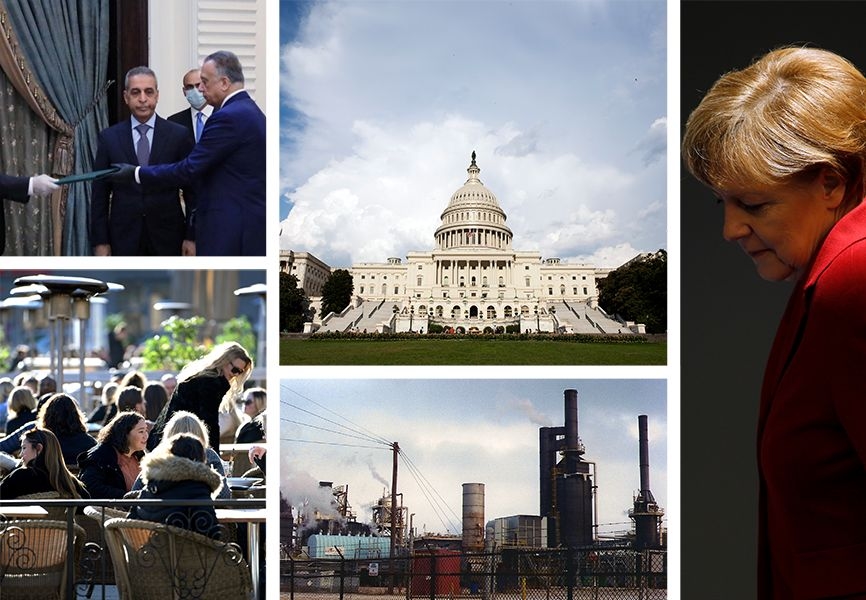 From a Covid-19 diagnosis for Russia's prime minister to a constitutional crisis in Sri Lanka, here are the top stories Eurasia Group's analysts are following this week.
Eurasia
Top story: Coronavirus cases in the Russian government
Why it matters: Prime Minister Mikhail Mishustin has temporarily stepped back from his duties after being diagnosed with Covid-19 last week, and another cabinet minister subsequently tested positive. The government will manage under Acting Prime Minister Andrey Belousov, while President Vladimir Putin will remain the key figure in steering the coronavirus response strategy.
South & Southeast Asia
Top story: Sri Lanka's constitutional crisis imminent as pressure grows on President Mahinda Rajapaksa to recall parliament
Why it matters: Sri Lanka's parliament was dissolved on 2 March as parliamentary elections were scheduled for 25 April. However, these have subsequently been postponed until 20 June owing to the coronavirus pandemic. One major issue has arisen though—legally, Sri Lanka cannot spend any more money, as the vote on account budget that passed in October only funded the government until 30 April. Now, Sri Lanka is operating without a budget and, according to opposition members, does not have the legal capacity to borrow more money. Further, any foreign loans need to be sanctioned by parliament within a month of the loan agreement being signed. This has set up a showdown between Rajapaksa and opposition leaders, a matter which will likely go to the courts to decide.
Healthcare
Top story: The Sweden model: celebration or condemnation?
Why it matters: Debate continues over Sweden's coronavirus response. Are they pursuing a "herd immunity" strategy—in which lower risk individuals are allowed to get infected to halt transmissions—or not? What we do know is that questions around the antibody tests and immunity levels reveal the limitations of holding Sweden up as a standard. And oversimplification and armchair epidemiology, via comparisons with the US and other European countries, could increase public health risks.
Middle East & North Africa
Top story: Iraqi Prime Minister-designate Mustafa al Kadhimi's ability to present a cabinet to parliament ahead of the 9 May deadline.
Why it matters: Iraq has been without a fully functioning government since November 2019, when the prime minister stepped down amid flaring socio-economic unrest. Kadhimi will be the third candidate to attempt government formation this year, and while he has the best chances yet given signs of support from a wide range of sects and parties, risks of failure are still high. His success would be crucial to stabilizing the country amid a rising risk of large protests, persistent insecurity, and the coronavirus crisis.
North America
Top story: Senate reconvenes.
Why it matters: The Senate is likely to ramp up negotiations over Phase IV stimulus, with state/local aid remaining one of several friction points. Also potentially on the agenda will be a Senate Judiciary Committee hearing for a critical nominee of President Donald Trump's to the DC Circuit Court. Meanwhile, the House will stay out of session until at least next week.
Brazil
Top story: Rising Covid-19 death toll
Why it matters: Despite insufficient testing, last week Brazil saw confirmed deaths associated with coronavirus reach its highest levels so far, nearing 500 per day and surpassing 7,000 total. According to the Imperial College, Brazil's transmission rates are probably the highest in the world. In some states, like Amazonas and Para, public healthcare systems are on the verge of collapsing and risk of unrest is poised to mount. This is one of the three shocks threatening the permanence of President Jair Bolsonaro in office—along with criminal investigations and a deepening recession.
Energy, Climate & Resources
Top story: Texas Railroad Commission to decide on government-led production cuts
Why it matters: On 5 May, the state regulator will determine whether or not it will move to implement cuts. While it is highly unlikely to move to implement production constraints, "organic" cost- and storage constraint-induced market forces continue to result in production cuts across the US and other producing nations.
Europe
Top story: German Chancellor Angela Merkel's 6 May announcement of additional easing measures on the lockdown
Why it matters: Berlin's approach, so far praised for its management of the coronavirus crisis, will be watched closely and set a possible example to other European countries regarding the pace of lifting of restrictions.