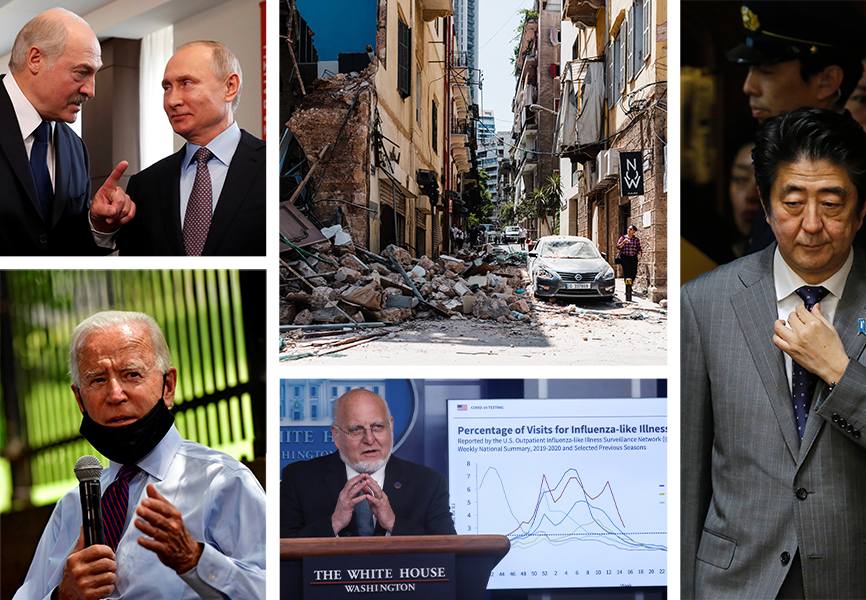 From the Abe Shinzo's plan to resign in Japan and ongoing unrest in Belarus to stimulus in the United States, here are some of the top stories Eurasia Group's analysts are following this week.
Top story: Did the CDC put politics over science?
Why it matters: The backlash against the CDC continues to expand after reports that there was political pressure to change testing guidelines in order to benefit US President Donald Trump's reelection. The public health community will likely continue to push back on activity that goes against the core principles of this once revered infectious disease agency.

For more healthcare news and analysis, follow Scott Rosenstein on Twitter.
Eurasia
Top story: Ongoing unrest in Belarus
Why it matters: Russian President Vladimir Putin's statement last week that he could send security forces to Belarus if needed to contain domestic "extremist elements" ups Russian support for President Alexander Lukashenko and throws cold water on any expectation that he could be swiftly driven from power. Russian forces in the end probably won't intervene, but Moscow's support makes a protracted crisis increasingly likely.

For more news and analysis of Eurasia, follow Zachary Witlin on Twitter.
Top story: On 25 August, Floyd Shivambu, deputy leader of the opposition Economic Freedom Fighters, introduced a parliamentary bill proposing the nationalization of the South African Reserve Bank, the country's central bank.
Why it matters: This move is likely to reignite this debate both in parliament and in the ruling African National Congress (ANC), increasing uncertainty over the independence of this key financial institution.

For more news and analysis of Africa, follow Amaka Anku on Twitter.
Northeast Asia
Top story: Japanese Prime Minister Abe Shinzo's resignation
Why it matters: Japan's longest-serving prime minister announced he will step down due to health concerns. While the country is unlikely to see any major, near-term changes to Abe's domestic or foreign policy, a summit with China and South Korea and alliance burden-sharing talks with the US could give a new prime minister and her or his counterparts opportunities to make their mark.

For more news and analysis of China, follow our team on Twitter: Michael Hirson, Kelsey Broderick, and Allison Sherlock.
Top story: French government's EUR 100 billion stimulus plan to be announced on 3 September
Why it matters: This will be the basis for the first program to be submitted to Brussels in the context of the Recovery Fund later in the autumn and therefore set the tone for other countries which will take their cue from the French.

For more news and analysis of Europe, follow our team on Twitter: Mij Rahman, Naz Masraff, Emre Peker, and Federico Santi.
United States
Top story: Deadlock on Phase 4 stimulus
Why it matters: With the White House and Congressional Democrats still far apart on the topline spending figure for Phase 4, the sides are more likely to continue blaming one another in public and wait to engage on a package until closer to the 30 September government funding deadline.

For more news and analysis of US politics, follow Jon Lieber on Twitter.
South & Southeast Asia
Top story: Thailand's parliamentary committee approved the military-backed government's plans to buy two more Chinese submarines.
Why it matters: Thailand's purchase of a further two Chinese submarines comes as some of its ASEAN partners are increasingly concerned about Chinese military activity in the South China. The plan also risks further inflaming pro-democracy protests at home, with arguments the funds would be better spent elsewhere as the severely hit Thai economy tries to recover from the pandemic. That said, the purchase is not yet a done deal and could be trimmed or derailed if political/public pressure grows.

For more news and analysis of South & Southeast Asia, follow Akhil Bery on Twitter.
Energy, Climate & Resources
Top story: Biden's ambitious power goals
Why it matters: If Joe Biden wins November's presidential election, his proposal to decarbonize the power sector by 2035 would likely be pursued through a congressional rather than executive pathway. The plan would face Republican resistance, potentially becoming a catalyst for a decision about whether Democrats would seek to eliminate the Senate filibuster should they win 53 or more seats in the election. The plan would also face pushback from several states, given the reticence of some governments and public utility commissions to see the huge costs of the plan borne by ratepayers.

For more energy and climate analysis, follow our team on Twitter: Mikaela McQuade, Coco Zhang, and Gerald Butts.
Top story: 2021 fiscal debate continues
Why it matters: With the government submitting its 2021 budget proposal to congress on 31 August, all eyes will be on ongoing negotiations around expenditures and Brazil's constitutionally mandated cap on spending, which limits spending in real terms. The cap is a key fiscal anchor for the country and closely watched by investors to assess the administration's commitment to a fiscally sustainable economic policy. Economy Minister Paulo Guedes will continue to fervently defend the cap, but there will be massive pressure for spending from congress and parts of the administration amid a slow economic recovery from the Covid-19 recession. The debate also comes as the administration seeks to transition out of its emergency stipend program for low-income households and into a new flagship basic income program. Ultimately, legislators will probably approve some spending that breaches the cap in 2021 but offset investor concerns by also passing a fiscal reform which cuts mandatory spending hikes for future years.

For more news and analysis of Brazil, follow our team on Twitter: Christopher Garman, Silvio Cascione, Filipe G. Carvalho.
Top story: Lebanon's President Michel Aoun will convene consultations between the country's political parties to designate a new prime minister, after Hassan Diab's cabinet resigned in the aftermath of the Beirut blast.
Why it matters: There is no consensus on a new prime minister, despite mounting crises which are raising pressure on the political class. The only serious candidate so far is former Prime Minister Saad Hariri, though many groups refuse his return to leadership.

For more news and analysis of the Middle East and North Africa, follow our Practice Head Ayham Kamel on Twitter.
See each edition of World in a Week.