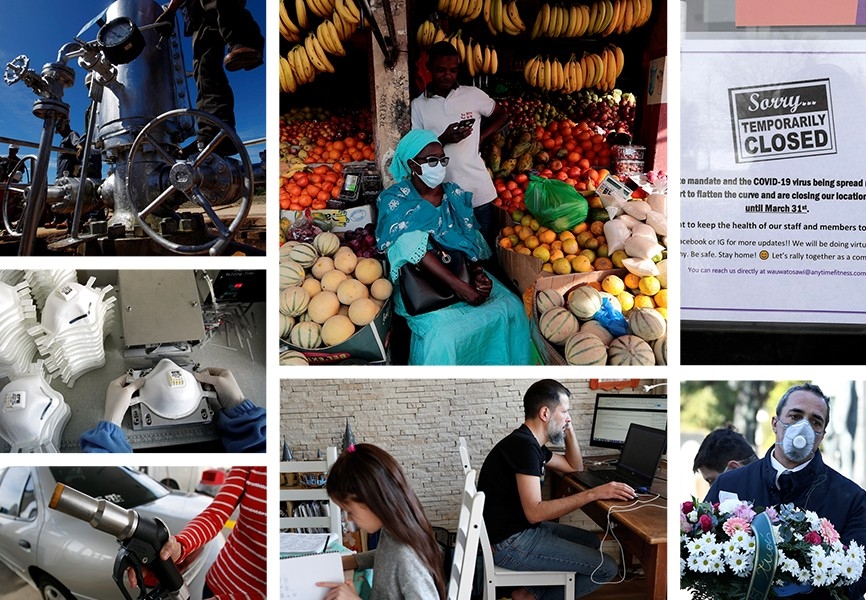 From the global response to the coronavirus pandemic and data impact of remote work to an OPEC+ agreement's expiration, here are the top stories Eurasia Group's analysts are following this week.
Healthcare and North America
Top story: US federal Covid-19 guidelines update
Why it matters: President Trump's extension of initial coronavirus guidelines from 30 March to 30 April indicates a more serious reckoning with the pandemic after the president previously suggested relaxing restrictions by Easter.
Africa
Top story: Socioeconomic impact of the emergency measures taken by governments to slow the coronavirus outbreak and efforts to cushion the impact of these measures on the poor.
Why it matters: The proportion of people living day to day in sub-Saharan Africa is high, and an extended shutdown will have an adverse welfare impact, which could foment social unrest.
Europe
Top story: Evolution in the number of confirmed cases in Italy
Why it matters: This will be an early indication of whether the lock-down imposed on 10 March is having an effect in slowing the epidemic, after some uncertain signs of improvement. As the EU country that was first and most heavily affected by the outbreak, how the epidemic progresses in Italy is key to mapping how long lockdowns are likely to remain in place throughout the EU. We do not expect restrictions to be meaningfully eased before March.
China & Northeast Asia
Top story: Xi Jinping's G20 speech and China's global leadership ambitions
Why it matters: China has greatly upped its soft power game, offering masks and aid to countries in need and spearheading the international response to Covid-19. While some countries have welcomed the effort, others remain wary about China's ultimate intentions. Xi likely hopes his 26 March speech at the G20 will win over his biggest skeptics in Europe and the US.
Geo-Technology
Top story: Impact of data requirements of massive shift to working from home arrangements, online education, and entertainment on US and global telecommunications and data services infrastructure, along with growing concerns about cybersecurity of global networks
Why it matters: With the normal economy mostly shut down, information infrastructure has become a potential point of failure for efforts to fight the pandemic and to keep economic activity going.
Middle East & North Africa
Top story: OPEC + agreement will expire and Saudi Arabia and UAE will increase output.
Why it matters: The MENA team will be monitoring the level of volume increases from key OPEC producers. The immediate and short-term actual output increases and price effects will impact the dynamics of discussions between oil producers over the coming months on some form of new agreement.
South & Southeast Asia
Top story: Modi's South Asian Association for Regional Cooperation (SAARC) agenda
Why it matters: Indian Prime Minister Narendra Modi is attempting to use the coronavirus crisis to rebuild relations with India's immediate neighbors and project India's soft power; relations had frayed after the passage of controversial social legislation in India.
Energy, Climate & Resources
Top story: Expected rewrite of Obama-era fuel efficiency standards
Why it matters: This latest move in the Trump administration's deregulatory agenda is expected to mire the automaker industry in further litigation from state and environmental advocates while worsening the outlook for domestic gasoline consumption, electric vehicle uptake, and greenhouse gas emissions from vehicles.
Eurasia
Top story: Russia will implement President Vladimir Putin's week-long decree aimed at keeping workers at home with pay, while the government will also order restaurants and entertainment venues closed nationwide to combat the spread of coronavirus.
Why it matters: The expiration of these orders on 3 April will be the next decision point for authorities and will provide an indicator as to their level of concern about containing the virus.
Latin America
Top story: Argentina presents offer to bondholders
Why it matters: We'll see how much patience creditors have toward the heavily indebted country as it, like the rest of the world, contends with the economic fallout of the coronavirus pandemic.
Asia
Top story: Pressure builds for emergency declaration in Japan
Why it matters: Tougher restrictions on movement in Tokyo and other areas would deal another blow to Japan's already battered economy and abruptly end speculation that the country had dodged an epidemiological bullet.
Brazil
Top story: Aid package for people and businesses due to the economic hit of the coronavirus pandemic
Why it matters: The size of the relief package and how quickly it is delivered will be key to determining how much vulnerable groups of the population will comply with social isolation measures for a prolonged period as well as determining the risk of social unrest in coming weeks.