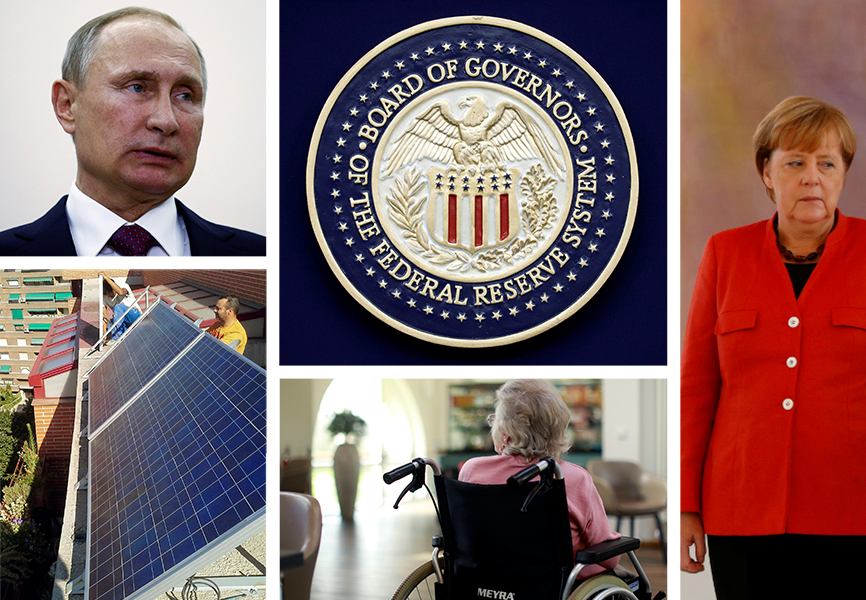 From the return of social distancing to Putin's 2024 problem, here are some of the top stories Eurasia Group's analysts are following this week.
Healthcare
Top story: The return of social distancing
Why it matters: As the US outbreak expands across the South and Southwest, states are beginning to reimpose restrictions. And a new outbreak in Germany has become one of the first major Covid-19 resurgences in Europe and a possible harbinger for the next phase of the pandemic on the continent; localized lockdowns are likely the new normal as countries seek to minimize spikes in new cases and prevent broader community transmission.
Eurasia
Top story: Voting concludes on 1 July for the constitutional amendments that would allow President Vladimir Putin to remain in power past 2024.
Why it matters: Voters will almost certainly approve the amendments, which include one that resets Putin's term limits so he can run again for president. It answers what had become known as the "2024 problem," when term limits would have forced Putin to find another way to remain in charge. Polls showed mix views on the change, but voters will be drawn to other popular amendments. Coronavirus and weak oil prices pose challenges to Putin, yet decent public approval, weak opposition, and substantial financial resources are helping him manage the crisis.
Top story: Potential Egyptian military deployment in Libya
Why it matters: Egypt has threatened to openly intervene militarily in the Libyan conflict should forces aligned with the Government of National Accord—supported by Turkey—make moves to invade the strategic city of Sirte, and it is not clear either side will back down. Egyptian intervention opposite Turkey in Libya would have profound implications on the shape of the conflict and have consequences across the wider Eastern Mediterranean.
Top story: Municipal elections postponed
Why it matters: Senators approved last week a proposal to punt the October municipal elections to November because of the Covid-19 pandemic. The bill will now be debated in the lower house, but some centrist party leaders resist postponing the vote because they fear the impact the calendar change could have on incumbents from their parties and believe a month will not make that much of a difference in epidemiological terms. But they will keep an eye on how the outbreak will unfold in coming weeks and could change their minds if there is significant turn for the worse in the public health crisis.
Europe
Top story: Start of German presidency of the Council of the EU on 1 July
Why it matters: The German presidency is critical, as it will finalize the overlapping talks on the EU's 2021–27 Multiannual Financial Framework (MFF) and the Recovery Fund.
Energy, Climate & Resources
Top story: Global green stimulus measures on the rise
Why it matters: Governments around the world are launching ambitious green stimulus packages (albeit at different levels of "greenness") as they move from providing relief to shuttered economies to stimulating them back to life. Major European countries like Germany and France, along with Asian democracies like South Korea, have sent strong signals that their economic recovery packages will double down on climate resilient investment and deep green policies. Such a trend has the potential to shape trillions of dollars of capital influenced by Environmental, Social, and Governance (ESG) mandates, and make or break sectors such as agriculture, energy, infrastructure, aviation, automobiles, financial services, and real estate.
North America
Top story: June jobs report
Why it matters: While economic data for May and June has generally been surprising to the upside, jobs market indicators have been showing signs of a more persistent slowdown. After the blockbuster May jobs report, the bar is high for June, and it comes in a context of rising caseloads in some states worrying investors about the pandemic again. For President Trump, the jobs numbers from now to Election Day will be important for his ability to hammer an economic pitch for reelection and keep pandemic headlines relegated, so he needs to see mostly steady improvement. Several Fed speakers, including Chairman Jay Powell, will give views on the economy in the days before the release.
South & Southeast Asia
Top story: India moves toward Unlock 2.0
Why it matters: Despite rising cases, India is moving toward Unlock 2.0 on 1 July. Yet this won't be a complete removal of lockdown restrictions; states such as West Bengal and Jharkhand are extending their lockdowns until 31 July. The central government has yet to come out with a full set of guidelines, but the biggest change is that some international flights are likely to be resumed.
See each edition of World in a Week.