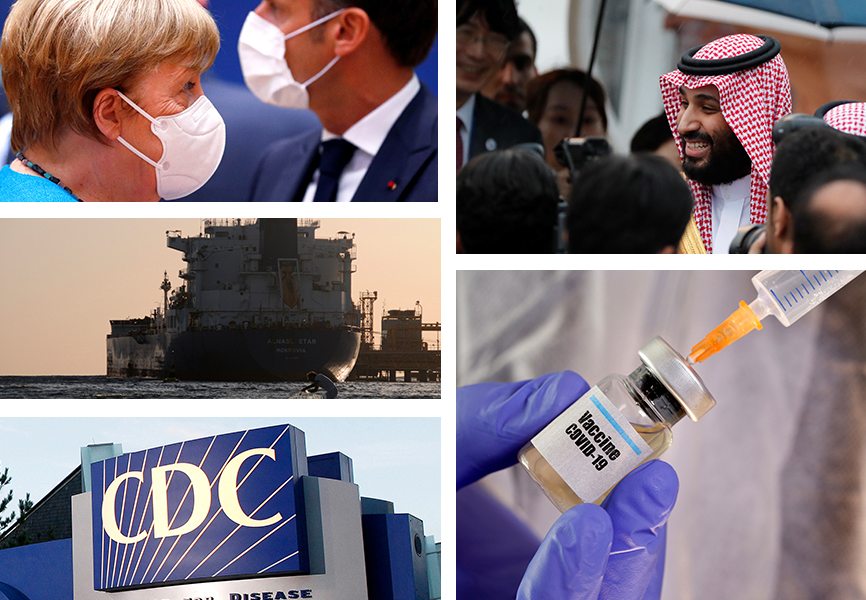 From Covid-19 cyberattacks to fears of a Thanksgiving spike, here are some of the top stories Eurasia Group's analysts are following this week.
Top story: A major US software company on 13 November said it had detected cyberattacks by state-backed hackers affiliated with Russia and North Korea against at least seven companies engaged in Covid-19 vaccine research or treatments. The organizations affected were in Canada, France, India, South Korea, and the US. The company reported it had detected the activity over a period of months.
Why it matters: Private firms have been playing a more prominent role in international diplomacy on cyber issues in 2020 and have also shown an increased willingness to attribute malicious activity—including threats to vaccine research and state-backed information operations carried out on social media around the US election. Vaccines and related research remain a tempting target. Yet it is unlikely that successfully compromising a research program would give a particular country an advantage in the vaccine race. With several promising vaccine candidates now likely on the verge of regulatory approval, the bigger challenge facing governments will be logistics and distribution of a finished vaccine. Securing healthcare organizations and research institutions against cyber threats is likely to remain a priority under President-elect Joe Biden's incoming administration.

For more geo-technology analysis, follow our team on Twitter: Paul Triolo, Kevin Allison, Xiaomeng Lu, Alexis Serfaty, and Clarise Brown.
Top story: Reactions to the Leaders' Statement from the G20 summit, presided over by Saudi Arabia.
Why it matters: Saudi Arabia's efforts to leverage its G20 presidency to rebrand itself were somewhat frustrated by the Covid-19 pandemic, which led to most events being held virtually. The summit was still a success overall and allowed Saudi Arabia to show leadership on key issues. The global reaction to the Leaders' Statement, which will include references to topics such as the development of a circular carbon economy and debt restructuring for poor countries, will hint at what global priorities are as the recovery from the Covid-19 pandemic begins in 2021.

For more news and analysis of the Middle East & North Africa, follow Ayham Kamel on Twitter.
Top story: A Thanksgiving Covid spike in the US?
Why it matters: With the coronavirus outbreak surging in the US—record levels of confirmed cases and hospitalizations and total fatalities that are on pace to return to spring highs—public health experts have pointed to large national holidays as serious risks. Canada's outbreak resurgence was likely accelerated by its thanksgiving holiday, even if it was already on a fairly steep upward trajectory before 12 October (which also resembles the outbreak dynamics in the US). Will the CDC's efforts last week to discourage travel and large holiday gatherings work? Or is it too little too late?

For more healthcare news and analysis, follow Scott Rosenstein on Twitter.
Top story: Municipal elections runoff
Why it matters: Obstruction from centrist and opposition parties kept Congress in slow motion after the first round of voting on 15 November, and debate on economic reforms in poised to pick up only next week. Meanwhile, attention will be directed at the remaining disputes in some of Brazil's largest cities. In Sao Paulo, Mayor Bruno Covas is on track for reelection, which would be great news for his ally Governor Joao Doria, the main antagonist to President Jair Bolsonaro in the center-right field. In Rio de Janeiro, the country's second largest city, former Mayor Eduardo Paes' expected victory would crown the performance from the Democrats party (DEM), leaving the centrist group better positioned to launch a presidential candidate in the 2022 elections. Leftist groups still have a chance in Porto Alegre with Manuela d'Avila but will nonetheless remain with a much smaller share of municipalities than in 2016. However, the good performance from Guilherme Boulos (PSOL) in Sao Paulo and D'Avila are important for a generational change within the left, which has a hard time detangling itself from former president Luiz Inacio Lula da Silva's shadow.

For more news and analysis of Brazil, follow our team on Twitter: Christopher Garman, Silvio Cascione, and Filipe G. Carvalho.
Top story: German Chancellor Angela Merkel will meet with minister presidents of German states on 25 November to discuss existing lockdown measures.
Why it matters: This will be a good signpost for how European governments assess the effectiveness of lockdown and consider possible extension, with the early December decision point looming.

For more news and analysis of Europe, follow our team on Twitter: Mij Rahman, Naz Masraff, Emre Peker, and Federico Santi.
Energy, Climate & Resources
Top story: OPEC+ production cut prospects in 2021
Why it matters: OPEC+ members are set to meet on 1 December to discuss whether to extend (or deepen) the existing production cut deal and, if so, for how long. Emerging positive news regarding the efficacy of a Pfizer vaccine has introduced some optimism into oil markets but will not be sufficient to convince Saudi Arabia and Russia that the market can accommodate more than an additional 2 million barrels per day of output starting in January 2021.

For more energy and climate analysis, follow our team on Twitter: Mikaela McQuade, Rohitesh Dhawan, Coco Zhang, and Gerald Butts.
See each edition of World in a Week.