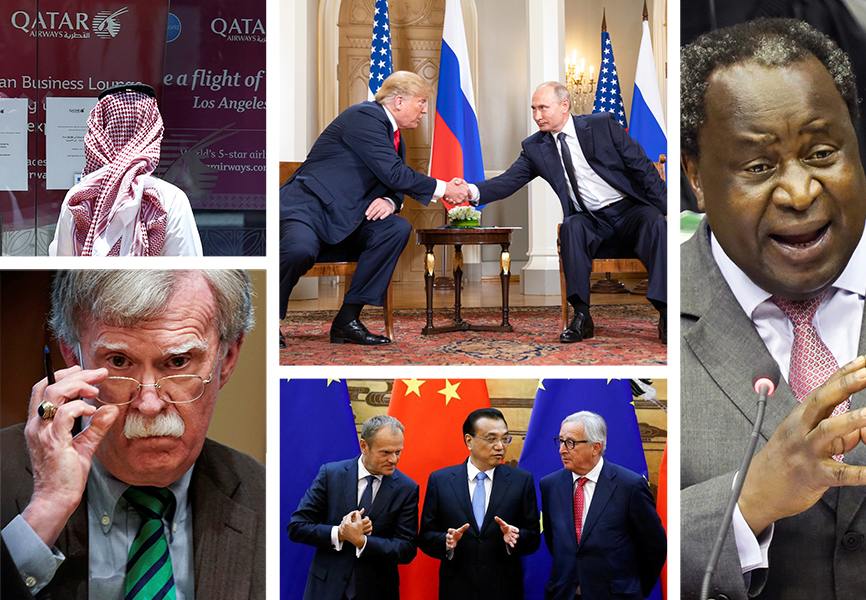 From John Bolton's book to US-Russia arms treaty negotiations, here are some of the top stories Eurasia Group's analysts are following this week.
Northeast Asia
Top story: Rising US-China tensions on the back of Bolton's allegations
Why it matters: Former US National Security Advisor John Bolton's new book contains explosive allegations that US President Donald Trump encouraged Chinese President Xi Jinping to build detention camps for Uighurs in Xinjiang and asked the Chinese leader to aid his reelection prospects while negotiating the Phase One trade deal. Trump's decision to sign a bill sanctioning China for its treatment of the Uighurs the day Bolton's charges came to light further inflamed the already tense relationship. Despite issues over Hong Kong, Taiwan, technology competition, and financial decoupling, the Phase One trade deal is likely to survive through November's US presidential election, though Trump could lash out if he continues losing ground in the polls to former Vice President Joe Biden
Top story: EU-China Summit via video conference on 22 June
Why it matters: This comes on the heels of the EU white paper to revamp its state-aid rules and expand their application to non-EU companies, with an eye toward curbing unfair competition from Chinese firms.
North America
Top story: John Bolton's book
Why it matters: Former National Security Advisor John Bolton's book will be published 23 June. Given his access and tenure, excerpts are already making waves in Washington on issues from human rights in China to the events surrounding impeachment. While it will not be a swing factor in the election, it adds to President Trump's headwinds with swing voters and potentially his own party at a time when his approval ratings are being driven down by coronavirus and race protests.
Top story: South African Finance Minister Tito Mboweni will present a revised budget to parliament on Wednesday, 24 June.
Why it matters: The budget is expected to present a negative outlook for debt sustainability and economic growth (a contraction of at least 5% of GDP is expected), but proposed fiscal consolidation is unlikely to be implemented.
Top story: Police investigations near Bolsonaro's inner circle
Why it matters: Fabricio Queiroz, former aide to a son of President Jair Bolsonaro, was arrested last Thursday over an alleged kickback scheme. Queiroz is close to the family, and evidence uncovered in last week's raid can shed light into corruption cases that could implicate President Bolsonaro's inner circle, fueling political and institutional tensions in coming months. However, this case is unlikely to significantly harm Bolsonaro's popularity and his tenure in office. To that sense, the pandemic poses a larger threat than criminal investigations into his family.
Top story: Countries throughout the region are set to begin re-opening their touristic industries this week, including Saudi Arabia, which hopes to relaunch domestic tourism starting on 21 June, and Tunisia, which plans to open its borders to international tourists starting 27 June.
Why it matters: We will be closely watching the success of tentative tourism restarts, as these could have a significant impact on mitigating the economic damage to countries counting on the expansion of the travel and hospitality sectors for jobs and revenues.
Eurasia
Top story: US and Russian negotiators meet in Vienna on 22 June to discuss renewal of the New START arms control treaty.
Why it matters: Moscow wants to renew the 2010 strategic arms treaty for another five years before its February 2021 expiration. Washington, however, insists on a multilateral agreement that includes China, something Beijing has shown little interest in. With the US last year leaving the bilateral Intermediate-Range Nuclear Forces Treaty, or INF, arms control has added to the tension in US-Russia ties. It remains possible that the two governments will agree to a renewal, though time is running short.
Energy, Climate & Resources
Top story: Growing global support for hydrogen development policy
Why it matters: Government interest in supporting hydrogen—especially hydrogen that is produced using renewable energy—has gained momentum over the past year and accelerated further in recent weeks through the pandemic. Hydrogen is now widely regarded as a building block in policies targeting net zero emissions by 2050, with 18 economies comprising more than 75% of global GDP rolling out hydrogen strategies. Japan and South Korea have included support for hydrogen in post-Covid stimulus plans; Germany has recently launched a $10 billion strategy that will give a big boost to the use of hydrogen to reduce greenhouse gas emissions in the EU. Moreover, a number of countries such as Canada and China are considering establishing their national hydrogen strategies in the near future.
See each edition of World in a Week.