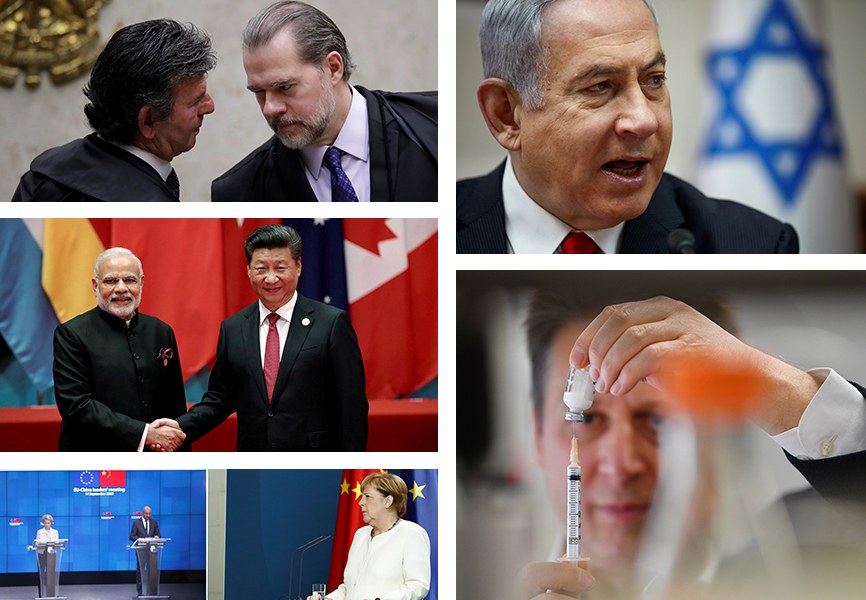 From climate change as 2020 election campaign issue to India and China's standoff, here are some of the top stories Eurasia Group's analysts are following this week.
Top story: The UAE and Bahrain will establish full diplomatic relations with Israel in a signing ceremony in Washington, DC.
Why it matters: The UAE and Bahrain will become the first Gulf Cooperation Council countries to normalize ties and sign peace agreements with Israel, reshaping the contours of regional relations and potentially paving the way for other Arab countries to follow suit. The UAE and Israel are rapidly pressing ahead with several trade deals, which will open space for stronger collaboration in different areas.

For more news and analysis of the Middle East and North Africa, follow our Practice Head Ayham Kamel on Twitter.
Asia
Top story: India-China standoff
Why it matters: The countries are facing off at the Line of Actual Control, with both sides accusing the other of violating various border agreements. Despite the Chinese and Indian foreign ministers meeting in Moscow on the sidelines of the Shanghai Cooperation Organization, a successful resolution to the crisis appears unlikely. There may be another meeting of the corps commanders this week, but unless the Chinese military is willing to retreat to April 2020 positions, negotiations are unlikely to be successful.

For more news and analysis of China and South & Southeast Asia, follow our team on Twitter: Michael Hirson, Kelsey Broderick, Akhil Bery, and Allison Sherlock.
Top story: Change of the guard in the supreme court
Why it matters: Last week Justice Luiz Fux was sworn as chief justice, with Dias Toffoli's tenure reaching an end. Fux will remain two years ahead of the highest court in the country and will probably adopt a less conciliatory tone with the administration than his predecessor. That does not mean the relationship between the court and President Jair Bolsonaro will be undermined, especially given the latter's improved approval ratings. But some spats are expected under Fux's tenure given the unfolding of cases that can harm the president's inner circle, like the probe on fake news and a potential review on a previous supreme court ruling on politicians' special jurisdiction, which can affect investigations into his eldest son, Senator Flavio Bolsonaro.

For more news and analysis of Brazil, follow our team on Twitter: Christopher Garman, Silvio Cascione, and Filipe G. Carvalho.
Top story: Governments and companies remain on alert about potential attempts to steal coronavirus-related research after a series of warnings from authorities in the US, the UK, and Canada about Russian, Chinese, and Iranian hackers probing research organizations.
Why it matters: Malicious cyber activity targeting vaccines or other Covid-19 related research has become a hot geopolitical topic as the US and like-minded countries have stepped up public warnings and attributions of alleged hacking attempts. China and Russia have been the main subjects of government statements so far, with the UK, Canada, and the US apparently jointly coordinating statements on alleged Russian cyberattacks on vaccine research facilities and organizations and facilities in July.

It remains difficult to gauge the impact of such activity, especially given that not a lot of vaccine development is intended to be secret and most information eventually becomes available in the public domain. Ultimately, the biggest risk stemming from attempts to penetrate and steal vaccine-related research could be unanticipated collateral damage resulting in lost data or other damage to hospitals' or pharmaceutical companies' networks. Moreover, the US may deem a major breach to constitute an attack on critical infrastructure under the new, more aggressive cybersecurity posture adopted in 2018. There is also a more general risk that an environment rife with hacking could discourage international cooperation, slowing vaccine development.

For more geo-technology analysis, follow our team on Twitter: Paul Triolo, Kevin Allison, Xiaomeng Lu, and Clarise Brown.
Top story: EU-China leaders' meeting via video conference
Why it matters: It'll be a bellwether on the progress in investment agreement talks, as well as a test of the EU's resolve to push Beijing on geopolitical issues led by alleged human rights abuses and the national security law that has enable a crackdown in Hong Kong.

For more news and analysis of Europe, follow our team on Twitter: Mij Rahman, Naz Masraff, Emre Peker, and Federico Santi.
United States
Top story: Climate becomes a campaign issue
Why it matters: The consequences of a warming climate are intruding on the presidential campaign, with record wildfires burning western states and the Gulf coast preparing for yet another hurricane. For Democratic nominee Joe Biden, the disasters represent a vivid argument for action on climate, even as his detractors on the left say his proposals don't go far enough. For President Donald Trump, who denies climate change, it's a time to point fingers at Democratic governors and poor forest management.

For more news and analysis of US politics, follow Jon Lieber on Twitter.
Energy, Climate & Resources
Top story: The EU to review its Emissions Trading System
Why it matters: The EU Emissions Trading System (ETS) will soon be reviewed and expanded, resulting in higher carbon prices. The ETS is crucial to the European Commission's Green Deal policy plans, and senior EU officials are ready to bet big on the carbon market to force through increased emission cuts and renewable energy production. The ETS's development will depend on whether a budget agreement on "own resources" streams of revenue includes carbon market profits, as well as on the priority given to other policies such as the proposed carbon border tax.

For more energy and climate analysis, follow our team on Twitter: Mikaela McQuade, Coco Zhang, and Gerald Butts.
See each edition of World in a Week.