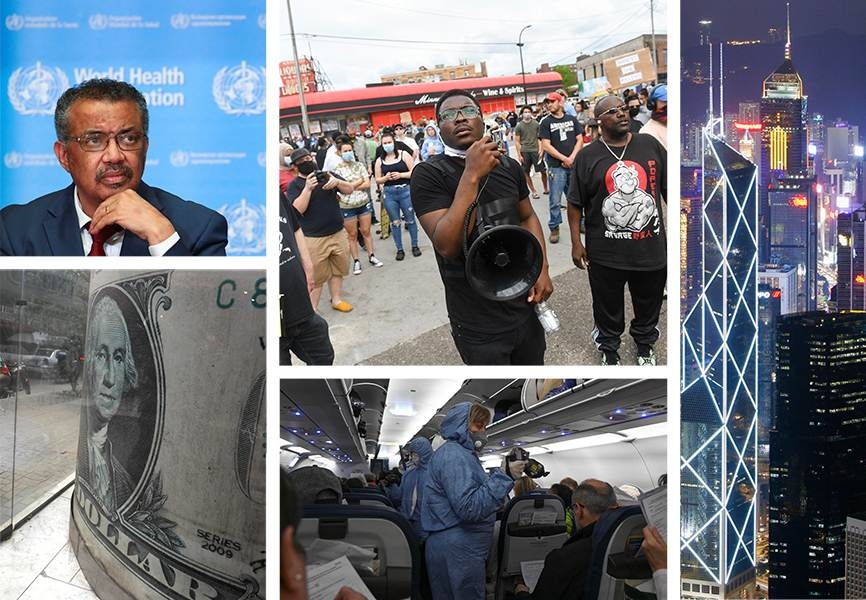 From AMLO's road trip to Hong Kong, here are some of the top stories Eurasia Group's analysts are following this week.
Brazil
Top story: Investigations on fake news network tied to Bolsonaro allies
Why it matters: Last Wednesday federal police raided right-wing activists, businessmen, and politicians suspected of involvement in a fake news network to harass public authorities and that could have benefited Jair Bolsonaro in the 2018 presidential election. Some of them had their cell phones apprehended and their bank secrecy lifted, which can uncover evidence of criminal activities and trigger additional operation into other persons of interest, such as Eduardo and Carlos, two of the president's sons, and shed light into the mechanisms used to mobilize Bolsonaro's support base.
South & Southeast Asia
Top story: India's military standoff with China continues on the border.
Why it matters: Skirmishes between India and China have been taking place since early May in Ladakh and North Sikkim along the Line of Actual Control. While both sides have signaled that they are working toward a diplomatic de-escalation, whatever solution emerges will not be permanent, putting even more pressure on an already tense relationship. China is likely to push its claim to regional leadership even further in the coming year, making continued flare-ups likely (though there has not been a death on the India-China border since 1975). India continues be weary of China's influence in its neighborhood (India believes that the current row with Nepal over Nepal's political map is due to Chinese influence) and will continue to work with the US and other like-minded countries on how to counter a more aggressive China.
Europe
Top story: European Central Bank Governing Council meeting on 4 June
Why it matters: The ECB will discuss its monetary policy and give a good indication of whether it is likely to expand its Pandemic Emergency Purchase Programme (PEPP).
North America
Top story: George Floyd's death and Minnesota protests
Why it matters: Protests developed around the country after a Minneapolis police officer was filmed killing George Floyd, an unarmed black man. The aftermath—including Twitter's decision to post a warning that one of President Donald Trump's Tweets on the subject glorified violence—highlights several potentially potent themes heading into the 2020 election season, including racism, police brutality, and social media's role in inciting violence and spreading misinformation.
Energy, Climate & Resources
Top story: Growing Venezuela-Iran ties, limited options for the US
Why it matters: Venezuela's President Nicolas Maduro is increasingly turning to Tehran for short-term help with an acute gasoline scarcity; the first of five Iranian tankers carrying close to $45.5 million worth of gasoline arrived in South America last week. The growing Venezuela-Iran ties could serve as a tool to spur changes in the political dynamics between the two countries and the US. It would be key to watch for response from Washington, although the Trump administration is unlikely to intercept the shipments for fear of escalation. Instead, it will potentially impose limited sanctions and designate Venezuela a state sponsor of terrorism.
Eurasia
Top story: Moscow's relaxation of lockdown restrictions
Why it matters: Moscow has already opened food shops and allowed citizens to take short walks; non-food shops and longer exercise will be permitted beginning 1 June. As with other cities and countries easing lockdowns, observers will closely follow whether Moscow can safely reopen without an uptick in coronavirus cases and deaths.
Northeast Asia
Top story: China law enforcing national security in Hong Kong
Why it matters: The law, which will likely be approved and come into force by August, has prompted international backlash, with US Secretary of State Mike Pompeo saying the US no longer considers Hong Kong to have significant autonomy under China rule and opening the door for sanctions and legislative action. While China's law probably won't endanger the phase one trade deal or lead to the Trump administration repealing the 1992 Hong Kong Policy Act, Hong Kong's autonomous status is likely to change under US law, with implications for the region's role as a financial hub.
Latin America
Top story: AMLO's road trip
Why it matters: Mexican President Andres Manuel Lopez Obrador will embark on a road trip to the south of the country. Mexico is supposed to begin partial reopening on 1 June, but most of the country will not be ready. Limited information and rising cases mean the process will be risky.
Healthcare
Top story: Is the US really leaving the World Health Organization during a pandemic?
Why it matters: President Trump's announcement that the US was terminating funding for the global health organization got a lot of attention, but the details remain murky. Questions around Congress's role and the timeline for such a move need to be answered. All the while, the pandemic marches on, with even less global cooperation around research and vaccines than before.
Middle East & North Africa
Top story: Rumblings in Egypt as authorities move to lift Covid-19 restrictions following the post-Ramadan holidays, while cases continue to rise steadily
Why it matters: Authorities last month announced plans to co-exist with the virus, but tension between the government and doctors has increased over the past week amid rising deaths among medical staff. The case count is expected to rise and will increasingly put the government's healthcare management strategy to the test.
See each edition of World in a Week.