This week's superforecast
Who will win Ukraine's 2019 presidential election?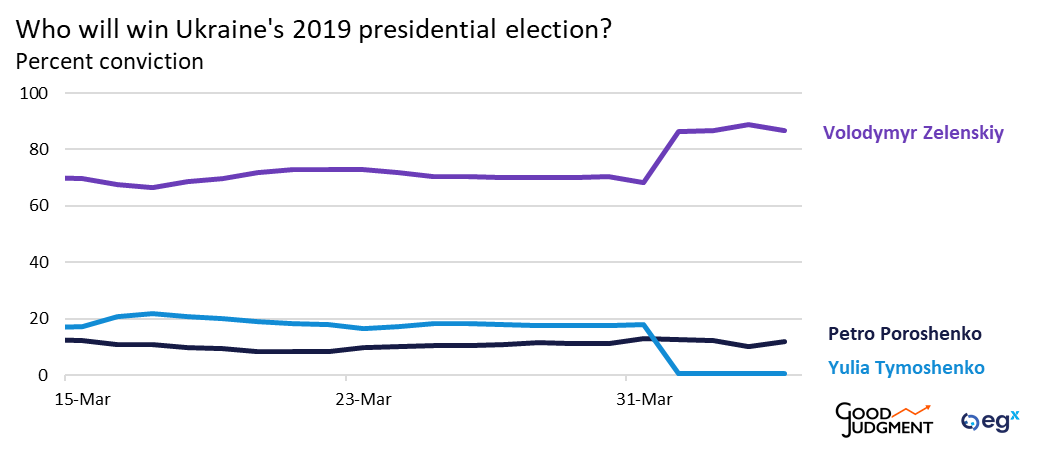 The Superforecasters currently assign an 86.6% probability that Volodymyr Zelenskiy will win the second round run-off of the Ukrainian presidential election on 21 April. The Superforecasters only assign a 12% probability that incumbent Petro Poroshenko will win.
The Superforecasters have increased their confidence in a Zelenskiy victory since the first round of the Ukrainian presidential election, which saw Zelenskiy secure a strong lead in first place with 30% of the vote, with seven other candidates securing between 16% and 4% of the vote. Zelenskiy's better-than-expected performance in Kyiv and central Ukraine bode well for his odds in the second round, as he appears to be reaching outside of his base in the southeast of the country. Poroshenko has struggled with corruption allegations against a family member in February and had lost momentum to third-place candidate Yulia Tymoshenko, who will not make it to the final round.
Russian interference remains a considerable risk in the Ukrainian election, and while the Kremlin's least desired candidate would be Poroshenko, Zelenskiy has also campaigned on a platform of winning back Crimea. Russia will likely step up efforts to discredit the election, but will likely turn its focus to parliamentary elections in the fall. Further Russian interference in Ukraine could exacerbate tensions between the US and Russia, although the likelihood of US sector sanctions on Russia remains low.