Back
Superforecaster Fridays: Will Benjamin Netanyahu cease to be Israeli PM before 1 January 2021?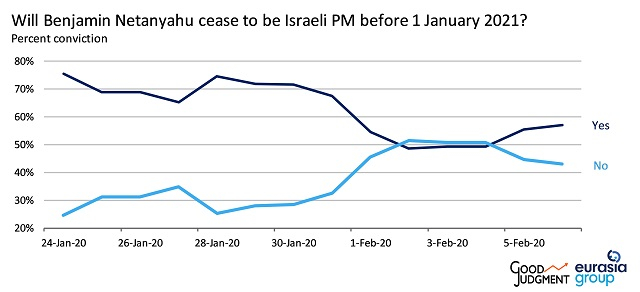 The Superforecasters currently predict that there is a 43% chance that Benjamin Netanyahu will still be prime minister of Israel come 1 January next year. This figure is up from its 25% mark of 24 January and rose just above 50% soon after the announcement of the White House's Middle East peace plan on 28 January, before dropping again.
However, this is still somewhat higher than the probabilities assigned by Eurasia Group to such an outcome. Earlier this week Eurasia Group lowered its odds that Netanyahu will be able to form a coalition after elections due on 2 March from 30% to 15%, and raised the odds (from 10% to 30%) that another round of inconclusive government formation could lead to yet another election in 2020 (the fourth inside two years). Although theoretically possible that Netanyahu could emerge victorious in our "fourth election" scenario, it does not seem the most probable outcome.
The lower probability of a Netanyahu premiership reflects our view that he is unlikely to get a significant boost from the peace plan and will remain hobbled by his indictment on corruption charges, the fragmentation of the Israeli right beyond Likud, and the likely refusal of Blue and White head Benny Gantz to enter into a Grand Coalition with Netanyahu as PM. Our most likely scenario (at 55%) is that Benny Gantz will be the next PM, heading a coalition led by his party and elements of a post-Netanyahu Likud.
Eurasia Group believes financial markets are underpricing political risk in the country, because if the March election yields no government, the next election would take place in August or September 2020, and a new budget would not be passed until the first quarter of 2021. Israel would consequently be without a budget for the entirety of 2020, weighing on the healthcare, infrastructure, and education sectors, which need significant reforms and/or financing.
To learn more, read How the Trump administration's Israel-Palestine peace plan will change the Middle East.