Back
Superforecaster Fridays: How many seats will the Conservatives win in the upcoming UK election?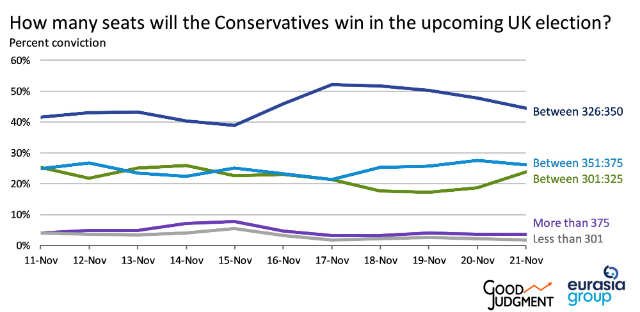 The Superforecasters currently predict that there is a 74% chance the Conservative Party will win an absolute majority in the UK general elections scheduled for 12 December. This is up from the 70% probability projected two weeks ago.
Contrary to expectations, this campaign is proving to be a classic two-horse race between the Tories and Labour Parties, focused equally on Brexit and domestic policy issues. The parties have both polled upwards since snap elections were announced, to the detriment of smaller parties: the Liberal Democrats, the Greens, and the Brexit Party.
Eurasia Group's current in-house probabilities are a 45% chance of a Tory majority government, a 30% chance of a Labour minority government, a 15% chance of a Tory minority government, and a 10% chance of Westminster deadlock.
The chance of Labour forming a minority government is significant at 30%. If the Conservatives do not win an absolute majority, Jeremy Corbyn could rely on the Scottish National Party, the Liberal Democrats, Plaid Cymru, and the Greens in key Commons votes. As part of the Labour economic agenda, renationalization of the country's water, rail, Royal Mail, and energy supply networks would be a possibility, with the railways a likely starting point.
For more on this, watch Breaking down the Brexit back and forth.