This week's superforecast
Before 1 March 2020, will the US impose Section 232 tariffs on automobiles or automobile parts imported from the EU?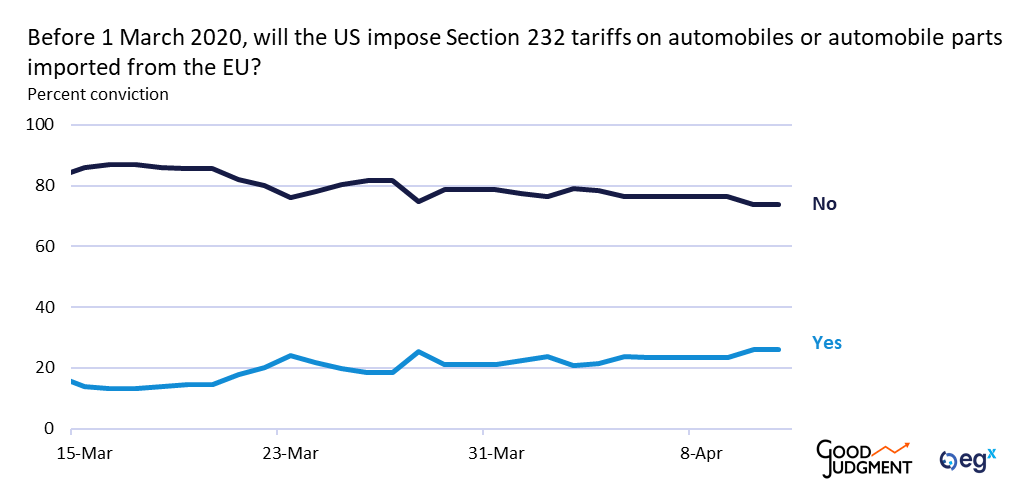 The Superforecasters currently assign a 26% probability that the US will impose Section 232 auto tariffs on the EU before March 2020.
The risk of tariffs has increased slightly this week as US President Donald Trump has made fresh threats to sanction $11 billion worth of EU products this week in response to EU subsidies to Airbus. Meanwhile, EU member states agreed to hold a vote on Monday on giving the European Commission a mandate to enter trade negotiations with the US, although France has signalled its opposition to negotiating with the US on the grounds that Washington withdrew from the Paris climate accord among other grievances.
While it appears ultimately unlikely that the US will impose auto tariffs on the EU, the road to negotiating a solution looks bumpy. Trump has linked the imposition of tariffs to failure to negotiate a new deal on trade, but the EU is approaching the negotiations primarily focused on avoiding tariffs rather than making the necessary concessions to secure a sweeping deal, which would remain particularly difficult given US insistence on including the sensitive area of agriculture in the negotiations.
As such, the key variable for the EU to avoid sanctions is to make sufficient progress on trade negotiations in 2019, but this has been made harder by the European Parliament's rejection of the EU's negotiating mandate (the European Parliament cannot block negotiations but would need to approve a deal) as well as France's opposition.