Innovating the next-generation political risk toolkit
EG Labs is Eurasia Group's incubator for innovative business-relevant political risk analytics.
Through both external partnerships and proprietary work, EG Labs combines Eurasia Group's politics-first approach with the latest theory, research methods, and advanced technology. We leverage big data, predictive analytics, and other tech-enabled solutions for identifying, assessing, and managing political risk.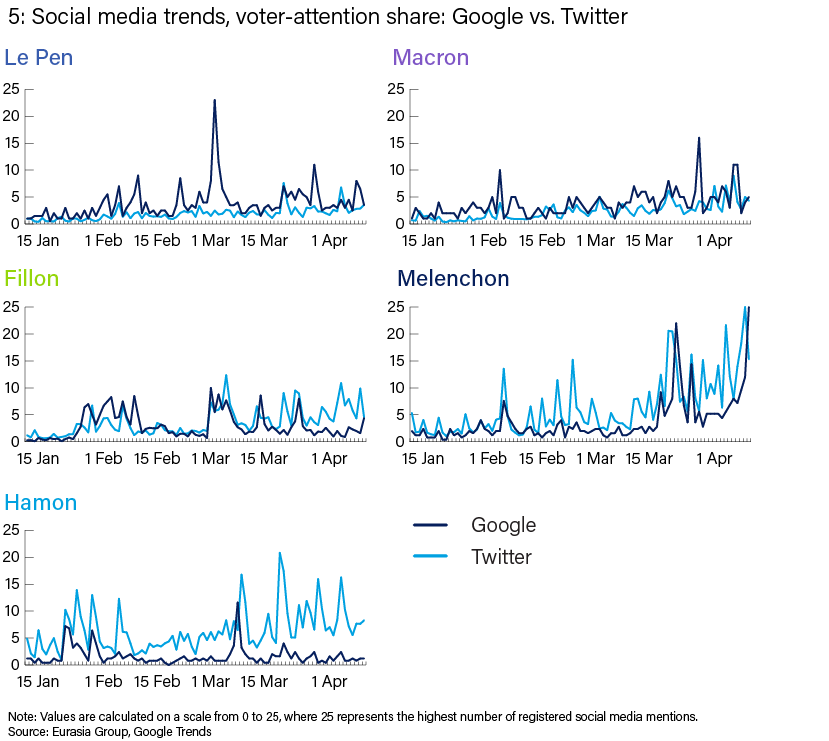 Sample Projects:
Geopolitical risk dashboard:
EG Labs has partnered with an industry-leading data and analytics firm to develop
an interactive data visualization platform
that allows users to interact with real-time financial, macroeconomic, and political risk metrics to create custom solutions for a variety of business concerns. Users can select their own combinations of data series to assess the interactions between political risk and market and economic developments.
Social media analytics:
EG Labs has developed a methodology to capture and quantify popular online sentiment on political leaders and topics, including elections. Using this methodology, we correctly forecasted, ex-ante, the outcome of several 2017 votes: the presidential races in France and Iran, the referendum in Turkey, the state elections in the State of Mexico, and the midterms in Argentina. The methodology can be leveraged to build early warning systems for companies interested in monitoring changing public sentiment on topics and events that affect their performance.
Political scenario development:
EG Labs has entered into several partnerships to develop technology-driven applications for forecasting the economic and market impacts of key country-level political risk scenarios. We leverage the latest techniques in fields such as network analysis and computable general equilibrium models to develop dynamic scenarios that simulate complex negotiations like those concerning North Korea or NAFTA.
Political risk indices:
EG Labs is developing cutting edge indices that track the level of geopolitical and socio-political risks within countries to forecast asset prices and volatility. These indices are based on links between political risk and declines in real economic activity, lower equity returns, and the volatility of individual stocks. The index will help clients incorporate political risk into their investment models and portfolio management decisions.
Political risk weighting:
EG Labs is identifying the geographic revenue exposure of companies, leveraging our proprietary Political Risk Country Portfolio model to produce recommendations for managing exposure to these companies.