On 16 September, Eurasia Group will host "Politics in Focus," the premier political risk conference for students, at Columbia University's School of International and Public Affairs (register to attend "Politics in Focus.") Attendees will have the opportunity to hear leading industry experts in conversation discussing geopolitical trends, ask questions about the top political issues of the day, and mingle with analysts during a post-panel reception.

China and Northeast Asia expert Michael Hirson, who will appear on a panel at the conference, shares insights about his career, the region he covers, and working at Eurasia Group.
What initially made you want to study international affairs? How did your studies prepare you for a career in political risk?
I lived in China during college and immediately after. Following several years back in the States, I realized that I wanted a career with an international focus, so I went back to graduate school to develop that background. I took a class in political risk at grad school, but there were other courses that ended up being more valuable: comparative politics, understanding currency and economic crises, and the political economy of Southeast Asia. These were all useful for understanding the intersection of politics and economics.
How did your career path lead you to Eurasia Group?
Before Eurasia Group I spent almost 10 years working for the US Treasury Department's Office of International Affairs. For five of those years, I focused on China, including three years as US Treasury's chief representative in China. That experience was great background for an understanding of economic and financial policymaking in China, and of course the US-China economic relationship, which has proven to be even more important than I would have guessed given the level of tensions in the bilateral relationship since Trump took office.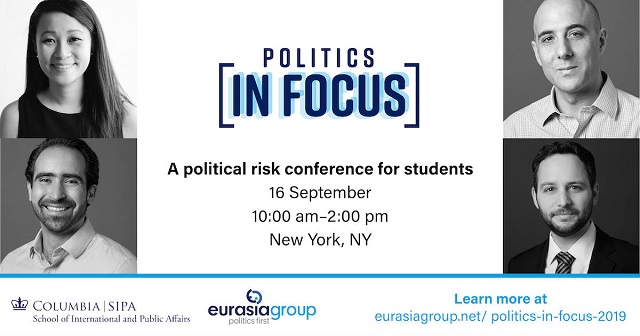 You lead Eurasia Group's China practice. What are the greatest opportunities and challenges facing China?
China's greatest opportunity is the chance to convert its overall economic heft—it will soon be the world's largest economy—to further the prosperity of its citizens. The goal, in other words, would be to move away from growth for its own sake and make further progress on environmental protection, poverty reduction, and income inequality.
China's biggest challenge is reconciling the current dynamics of the political system—which prizes stability, control of information, and increasingly top-down decision-making—with an economy and society that are increasingly complex and where bottom-up innovation and economic liberalization will likely be both more important and more in demand.
What is the best piece of career advice you received?
Without question, it was the person who told me that "China is a country, not a career." Whatever region or set of issues you focus on, it helps to approach that through a discipline that gives you functional skills. That can be anything—journalism, law, finance, politics, development work. It will help you go farther in your field of choice and give you options if you lose interest!