On 16 September, Eurasia Group will host "Politics in Focus," the premier political risk conference for students, at Columbia University's School of International and Public Affairs (register to attend "Politics in Focus.") Attendees will have the opportunity to hear leading industry experts in conversation discussing geopolitical trends, ask questions about the top political issues of the day, and mingle with analysts during a post-panel reception.

Latin America expert Carlos Petersen, who will appear on a panel at the conference, shares initial insights about his career, Latin America, and working at Eurasia Group.
What led you to a career in political risk?
I had always been interested in politics and political analysis, especially its connection with the private sector and the economy. I studied political science and worked in government and for a public policy consultancy firm before doing my masters at SIPA. When moving to New York, I knew that I wanted to find the intersection of politics and business, which Eurasia Group provides.
What is a typical day at Eurasia Group like?
It is a mix of a lot of writing, reading and client interaction. Our focus has to be in those day-to-day political issues and events that impact the markets and those structural trends that will shape the future of the economic and political landscape. Doing proper research to understand this is critical. After that, communicating this to clients is the most important part. Through reports, presentations, emails, calls, and meetings, we have to convey what we think will be market relevant and forward looking.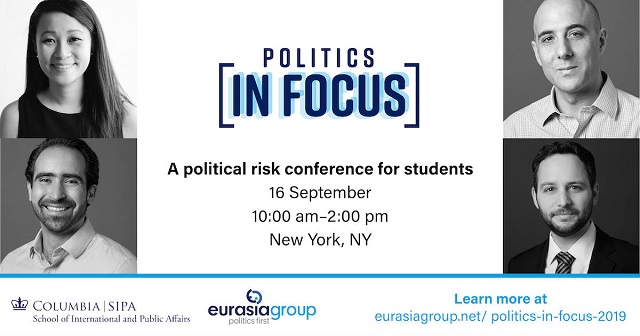 You are an expert on Mexican and Latin American politics. What are the greatest geopolitical risks facing both Mexico and the broader region?
The main risks for the countries that we cover always are domestic and external. Since most of the time we are looking at what is going on in a country, we forget many times that external factors (especially for emerging markets) are sometimes as relevant or more than domestic issues (especially the impact to financial assets, which is something a lot of our clients are paying attention to). So, the
slowdown of the world economy
, the impact of US-China tensions, or the
developments of US presidential campaigns
are external shocks that can very quickly change what is going on in the region. Domestically, the direction in which these countries are conducted, the reforms, and changes and decisions governments make (such as energy policy in Mexico) are very important and part of our day-to-day analysis.
Who has been your most important professional mentor, and why?
I've had several. I have been very lucky that all the bosses I've had have been great mentors and have taught me a great deal about the subject matter of the job in addition to teaching me other lessons to help me grow as a professional. But several professors—Bruce Wolfson at SIPA especially—were and still are people I rely on to make decisions, learn, and grow.