egX: a pioneering approach to geopolitical challenges
With the launch of egX, the Eurasia Group family now provides the marketplace with a complete political risk solution. Within this integrated universe of offerings, each component draws upon and reinforces the others to create synergies for our clients. This multi-faceted approach reinforces Eurasia Group as the premier partner for globally-oriented organizations amid a rapidly changing geopolitical environment.

egX is a platform that crafts innovative approaches to the world's most complex global political challenges. We accomplish this by leveraging the breadth of qualitative expertise within Eurasia Group and our proprietary data-driven tools, as well as a broad array of external political experts through strategic partnerships. We identify and align the most relevant producers and consumers of political risk analysis to solve complex problems. A client can come to us with any geopolitical challenges they are facing in the global economy, and we will deliver an integrated and cross-cutting solution.

A quantitative and data-driven approach is the hallmark of the egX platform. Data analysis has become a crucial tool in gauging political risk with the amount of data and ease of access expanding exponentially. Similar to the historic development of electrification that enabled the industrial revolution, today datafication is revolutionizing business. We are harnessing this new force through our internal innovation lab as well as by partnering with the top firms in the big data space.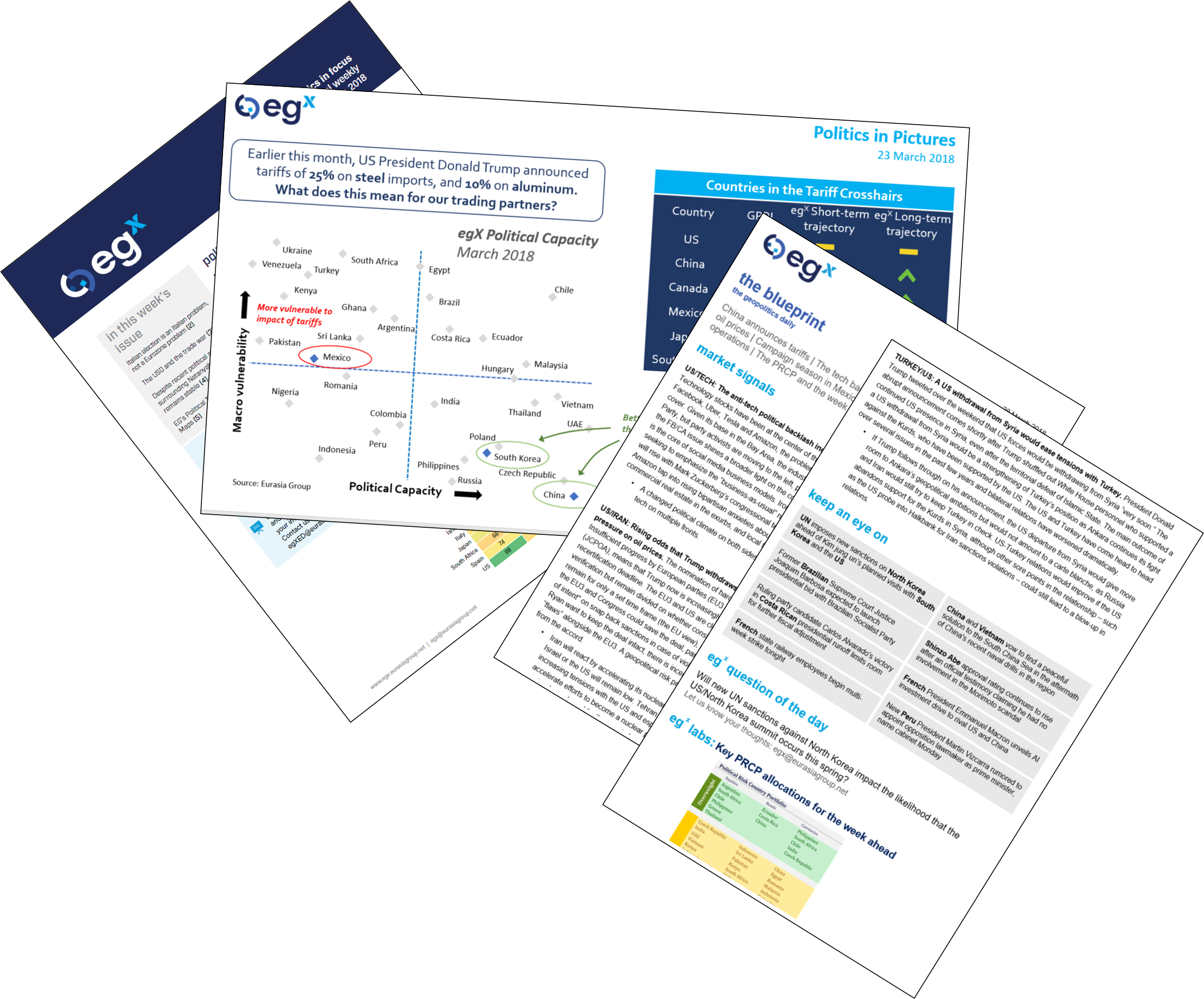 egX solutions
The egX client is looking for a unique solution that integrates directly into their business. To achieve this, egX:
Partners with big data and artificial intelligence firms to leverage Eurasia Group's 20 years of knowledge and data to better forecast the global environment
Offers a suite of publications and multimedia content for investors and corporate leaders seeking a shorter-term, data-driven, and thematic view of geopolitical coverage
Builds investment partnerships and custom investment tools that integrate predictive geopolitical factors into the asset management process
Conducts executive education via custom programs designed to give financial institutions and corporations the skills and confidence to grow globally and manage risks
Convenes the world's best global experts as speakers for clients looking for engaging, informative, and unbiased analysis
Forms alliances with global firms to develop joint products that enhance those firms' conversations and impact with their clients

Some examples of egX partnerships are:
Nikko Asset Management: Nikko integrates Eurasia Group's proprietary approaches to quantifying political risk into portfolio allocation and risk management.
KPMG International: KPMG works closely with Eurasia Group to design scenario planning and risk management solutions with implementation capabilities.
A range of public relations, due diligence, and legal service providers that we work with in order to present a one-stop politics first solution to both their clients and ours.
Meet the egX Team

The egX team sits at the crossroads of geopolitics, markets, and data. The team members bring together a wide range of professional experience in political science, financial markets and currency strategy, portfolio management, quantitative research, wealth management, consulting, policy, non-profit, and technology among other areas.